System Documents & Forms
Partners & Subcontractors
Ausgrid & Avetta Workforce Management Supplier Webinar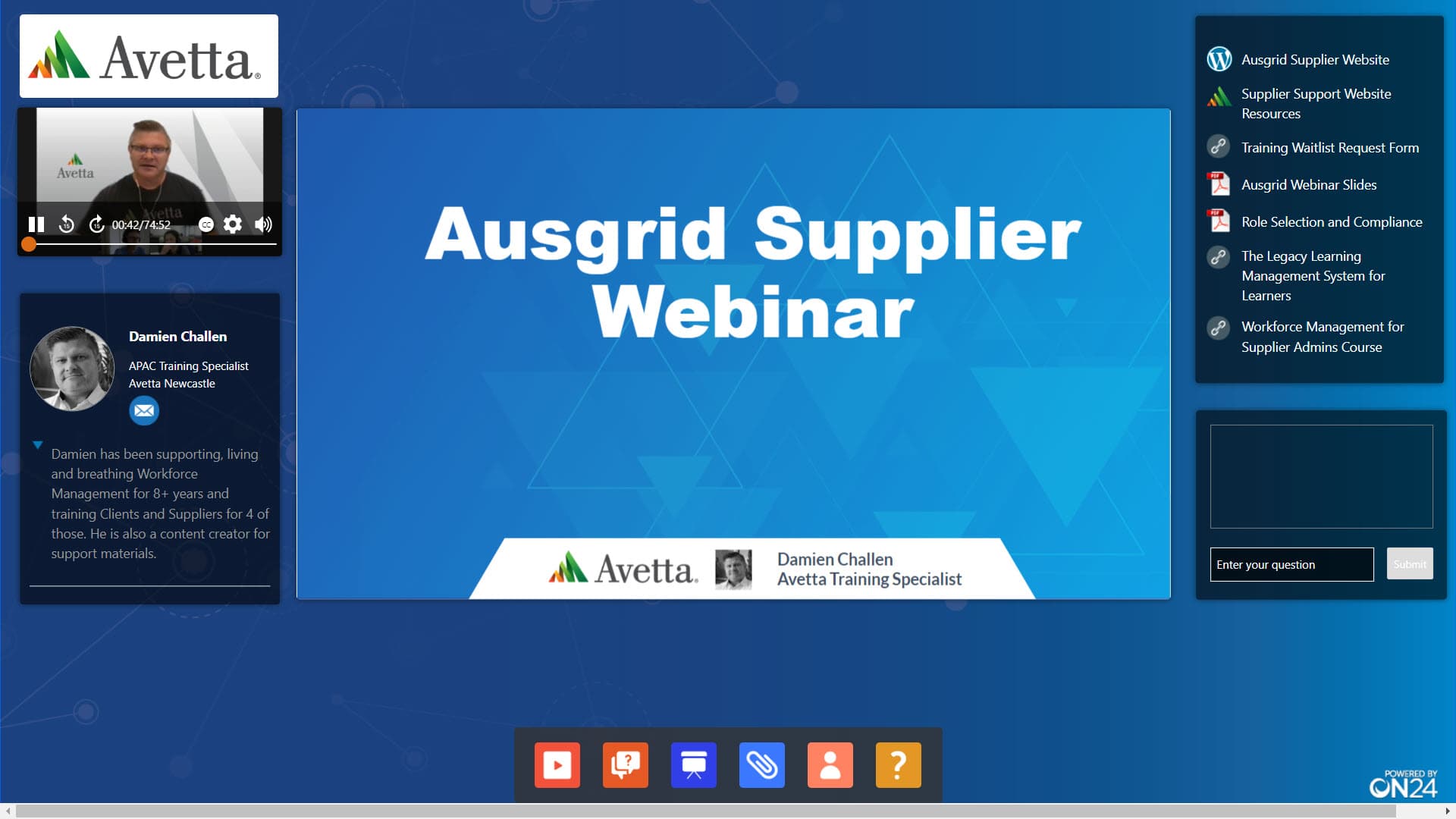 3rd Party Providers
Accredited Service Providers (ASPs)
Classroom Documents
Mobile App
Helpful Resources
The Business Rules specify the requirements of the documents you upload in the system. Ensuring your documents meet these requirements will save time and have your workers approved faster.
Our Knowledge Base now provides comprehensive guidance on various aspects of our system. This includes instructions on accessing your account and registering, navigating our supplier portals, managing roles and worker subscriptions, setting up and using the Workforce by Avetta Mobile App and other support materials.
Workers can be removed from your company by an administrator directly in the system. Instructions on how to complete this process are available here.
Safety Management Resources
Frequently Asked Questions
Please click to expand the FAQ below.
Where do I register my business details?
Partners & Subcontractors will register both their business and workers by following the instructions and links on the Partners & Subcontractors page.
3rd Party Providers will register their workers only by following the instructions and link on the 3rd Party Provider page.
Accredited Service Providers (ASPs) will register by following the instructions and link on the ASP page.
What benefit does compliance have for my business and workers?
Registration ensures partners are qualified to work for Ausgrid. It allows you to keep company and worker information up to date in one place online, and to ensure your business and workers are qualified and compliant to safely work for Ausgrid, on or near the network.
What's the difference between a partner, a subcontractor, a 3rd party provider and an ASP?
What does it cost to register my business and workers?
BUSINESS (Partners only)
The cost of registration depends on category. Registration is valid for three years with a $150 + GST annual account renewal fee:
Category High Risk: $700 + GST
Category Medium Risk: $500 + GST 
Category Low Risk (4801 or equivalent): $300 + GST
Subcontractor: $0.00
This is for the verification of your company information and documents to WHS standards, the management of your profile, and includes access to local support teams if you need help in the system.
WORKERS (Partners & Subcontractors)
Worker registration costs $125 + GST per person for profile verification and the supply of a plastic access ID card and e-card, with renewal costing $90 + GST annually from year two.
Who do I contact if I have questions or need help?
You can contact Pegasus, who manages the system on behalf of Ausgrid. Visit Contact Us for details.
What are the minimum requirements a partner must meet to be registered?
Ausgrid will only assign work to partners that are compliant in the system. Your business must meet these minimum requirements to achieve compliance:
Public and Product Liability insurance of $50M for any one occurrence
Workers Compensation Insurance for Australian companies who pay more than $7,500 in wages
Professional Indemnity if prompted
If applicable, other forms, insurance, or licences such as:
High Risk Licencing
Accreditation Documents such as ISO 9001
Certified Safety Management System certification
Evidence of your Safety Management System
What's an SMS review?
A SMS review is an independent desktop audit of your Work Health and Safety documents completed by a qualified WHS professional. It will compare your information against legal and industry requirements to ensure your systems are meeting these obligations. Ausgrid contractors will be contacted when the SMS review is complete and you are compliant in the system. If you do not pass the SMS review, we'll send you a corrective action report detailing the action we can help you take to become compliant. Contractors completing the high risk SMS need to score a minimum of 80% to pass.
You will only be compliant when both your SMS and registration has been verified and approved.
Please allow up to 1  – 2 hours to upload all of the documents in your review. If you run out of time to complete the SMS review in one session, your work will be saved and the next time you login, you can continue from where you left it. If you are part of a franchisee service, then you may have documents available from your parent company.
The documents you'll be asked to upload in the system depend on your category and may include, but are not limited to:
WHS / OHS Policy
Environmental Policy
Risk Management Procedures
Systems of Work process including incident management
Drug and Alcohol management
Emergency management
Training procedures including induction management
Sub-Contractor Management (if applicable)
Continual improvement processes
What is AS/NZS 4801?
AS/NZS 4801 is the Australian and New Zealand standard for safety management. Updated in 2001 – referred to as AS/NZS 4801:2001 – this standard is the benchmark in assessing Occupational Health and Safety across management systems.
It is regarded as a discipline which guides organisations in developing and implementing policies and objectives that demonstrate a company's knowledge and control over hazards and risks present in its work environment. The internationally recognised standard is known as OHSAS 18001.
The responsibility of management in regards to the health and safety of their employees, business units, and output have increased due to changes with the introduction of the WHS Act in 2011. As a result, this has made it increasingly important for an organisation to implement a management system to comply with the necessary obligations.
Certified companies will have a certificate that bears one of the following 5 tick symbols.
A valid certificate will also have a JAS-ANZ stamp and only a document stamped in this way will be accepted.
Benefits of AS/NZS 4801 Certification
The benefits of AZ/NZS 4801 Certification are that it:
Encourages a culture of safety in the workplace
Proves the affective implementation of an OH&S management system
Reduces the onset of workplace injuries, illness and incidents due to increased control
Enhances your company's reputation as a safe and reliable partner, contractor or supplier
Demonstrates strong commitment to ongoing improvement of safety performance
How is our data protected?
Pegasus respects the privacy of every person who contacts our company or is associated with the services that we provide to our customers. Our Privacy Policy outlines the information we collect and how we use it.
We have developed our privacy policy with reference to the Australian Privacy Principles (APP) contained in the Privacy Act 1988 (Privacy Act) as well as applicable state based legislation, industry guidelines and best practice.
Pegasus is committed to protecting and safeguarding the privacy of personal information and we take seriously the trust placed in us by our clients and their workforce.
What if my workers don't have a company email address or mobile?
You can enter your worker's personal email address and phone number when booking their training. If you choose to add your email or number, you must forward along any training invitations or notifications to them.
What if my workers have not yet completed the competencies required to book in for classroom training?
All mandatory competencies must have evidence uploaded against each requirement prior to booking classroom training. Ausgrid in some instances will allow a booking confirmation to be provided as evidence so a booking can be made for Ausgrid classroom training. This only applies to the following competencies:
HLTAID001 – Provide cardiopulmonary resuscitation
UETTDRRF10 – First Aid in an ESI Environment
UETTDRRF06 – Perform rescue from a live LV panel
All other mandatory competencies will be required to be uploaded to secure a booking.
How do workers access the mobile app?
Workers will receive an email invitation that contains both a link to download the Onsite mobile app and their user name and password.
The email will be sent to the email address entered against their profile during registration. If you have used a generic email address for the worker, the administrator of that address will need to forward the user name/password to the worker.
The worker will then download the App to their mobile device and create their own 4 digit pin for easy access.
What is the mobile app for?
The Onsite Mobile app allows the user to view their work roles, competencies, authorities, and licences to ensure their own compliance, right down to the document level. They can also scan the cards of other workers to ensure their compliance before assigning tasks on the job.